Can You Sleep Your Way to Better Health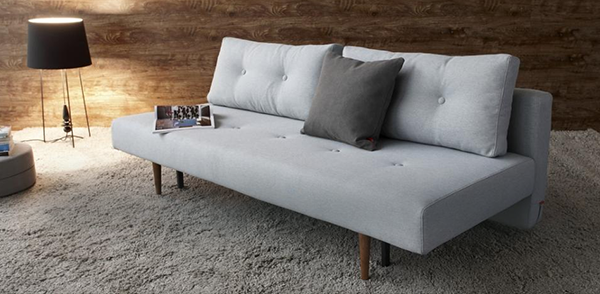 Chemical Free & Organic MattressesCan You Sleep Your Way to Better Health?
When it comes to choosing a mattress, many people simply head to their nearest bed store and choose one that will both fit their bed and feel comfortable. The public in general are unaware that chemical free and organic mattresses are available options, and that they can provide various benefits.
These types of mattresses are made from natural materials, therefore free of the toxins, residues and chemicals that can be harmful to health, and in the case of babies and small children, body development. Those who suffer from respiratory conditions such as asthma or allergies like eczema may find that sleeping in a chemical free environment may offer some help to alleviate their conditions.
Considering that almost one-third of our lives are spent in bed, surely it makes sense to choose a mattress that offers positive benefits beyond just being "somewhere to sleep". A UK made chemical free mattress can have a positive impact on health, so it's a good idea to think about this purchase as a long-term investment.
Many people are unaware that most mattresses contain chemicals such as Chlorinated and Brominated flame retardants also antimony trioxide. The reason mattresses contain these chemicals is to make them flame retardant, which is a legal requirement in the UK. Words such as Organic and Natural can be divisive as there are many interpretations but for the purposes of this piece they are used generally and with a positive intention.
Any discussion highlighting chemicals and sleep products will probably mention memory foam, a man made product that has become popular in recent years as a mattress, pillow and cushion material. There are different qualities of memory foam and although it might be comfy for some, it can give off a chemical odour and over heat user's bodies. So, when considering a new mattress, it's much better for your health, safety and well being to opt for one that is affordable, eco friendly and chemical free.
When researching mattresses that are going to give you a comfortable restorative sleep without being laden with fire retardants they will typically be made from layers of natural materials such as cotton, lamb's wool, coir and latex. Thread will be made from flax and it will be hand finished with felt washers.
In late 2014 after years of trial and error there was a breakthrough 22cm thick pocket spring mattress called Cottonsafe®. That development process was monitored and tested by a UKAS certified testing house for UK Fire Regulations and centred on using organic and pure materials. Here is a sustainable, affordable solution that immediately limits the exposure to toxic chemicals.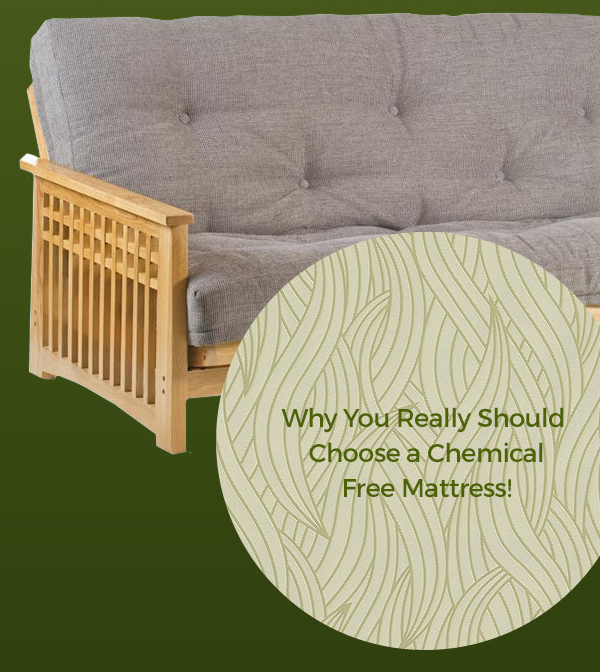 If the idea of a chemical free mattress for your bed or futon is not appealing enough, listed below are other significant reasons.
Natural fibres promote healthy sleep patterns. Research has shown that those who sleep on natural fibres tend to spend less time tossing and turning, which means they are getting better sleep.
The kind of mattresses we are discussing are quite firm and supportive, this helps to keep the spine aligned which in turn reduces aches and pains in the back, neck and shoulders. If you suffer from pain or skin irritations one would imagine that would lead to interrupted sleep, and quite possibly days off work, more reasons to consider a progressive solution.
Mattresses that contain latex, a natural product, are hypoallergenic, meaning they are ideal for allergy sufferers or those with chronic respiratory problems. The lack of chemicals used in these mattresses means there is no chance of aggravating existing conditions. Any mattress with latex and natural fillings will resist dust mites, mould, mildew, and bacteria but it's essential they are used on a slatted bed frame.
Beech flexi slats are excellent as they distribute weight evenly, help prevent bodies rolling together and allow air to circulate around and through the mattress so it can dry out and "breathe.
The natural materials in mattresses help to regulate body temperature, meaning they help the whole body to stay cool in summer and warm in winter. Another chemical free pocket spring mattress called Pure Choice works to wick away moisture, such as sweat or perspiration, and, therefore allows more even body temperature which in turn results in a better night's sleep, especially for sufferers of rheumatism and arthritis.
Chemical free mattresses provide many benefits and it should be stressed that it's a cost-effective solution as they last longer than mattresses containing foams or synthetics. The inherent characteristics in natural materials are strength and durability and the result is that they will keep their shape and form really well over a long period. Synthetic man made foams lose their ability to support weight and that's why dips and lumps in mattresses lead to aches and pains.
If you are considering a bed & futon mattress, replacement mattress or anything to do with sitting/sleeping look for comfort but always consider the new progressive healthy options available including wooden futons or metal futons. Make sure you consider your options carefully. By investing in a quality chemical free futon or bed mattress you could advance the quality of your sleep, improve your health, and save money in the long run. The links will guide you to further useful information about this important subject for you and your family.